What is Arc-Resistant Switchgear?
Arc-resistant switchgear mitigates the risk and liability to workers and operators of dangerous power distribution equipment by diverting electrical explosions (arc flash events) away from those in danger's path.
Unlike conventional switchgear, arc-resistant switchgear is designed with reinforced compartments that can withstand incredible pressure increases during high-energy arc faults. Arc-resistant switchgear offers a safe, proven, and cost-effective solution to the problem of arc flash events.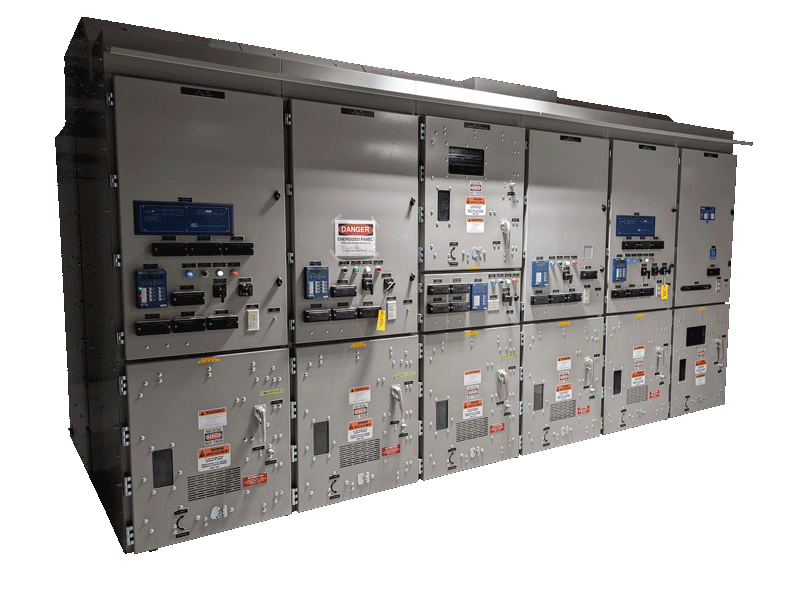 Why do I need Arc-Resistant Switchgear?
Arc flash incidents are frequent and deadly. An arc flash is an electrical explosion where energy leaves the circuit that it is contained in and travels through the air. The blast from an arc event combines voltage, heat—up to 35,000 degrees Fahrenheit—and violent concussion. Even with special PPE, those in the vicinity of an arc flash risk injury or even death.
According to an article in Industrial Safety & Hygiene News, there are an estimated 30,000 arc flash incidents each year. These events lead to over 7000 burn injuries, 2000 hospitalizations, and 400 fatalities. It is impossible to eliminate every variable that might cause an arc explosion. Dust buildup, dropped tools or parts, material failures, corrosion, leaks, and condensation are just some of the causes of arc events. Awareness and preparation can go a long way toward preventing injury and death; however, unexpected accidents are still frequent.
Because switchgear controls enormous voltages and amperages, it is prone to highly destructive arc flash events. The potential loss of life and limb makes working on this type of equipment a liability for utilities, campuses, and facilities worldwide.
For a marginal premium (about 7% over the cost of regular switchgear), arc-resistant switchgear offers peace of mind when protecting technicians, engineers, and other facility staff exposed to live power distribution equipment. Because arc-resistant switchgear is specifically designed to contain and limit the damage incurred from internal arc faults, it provides the highest degree of protection to personnel, long-term savings, and a significant reduction in downtime.
Crown saves time and money with every high-performance lineup of switchgear we deliver but most importantly, we save lives.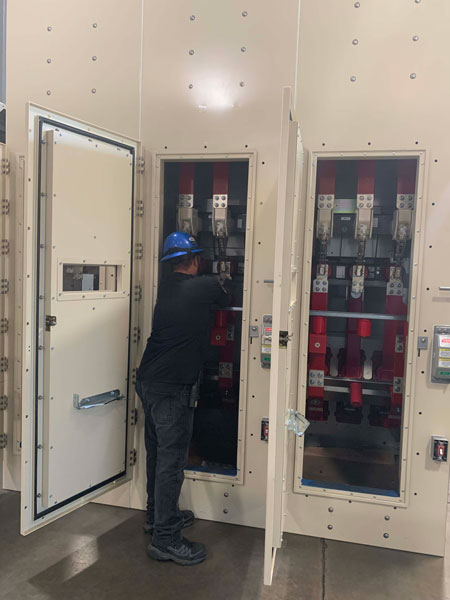 Crown Arc-Resistant Switchgear
Crown Technical Systems is one of the few companies in the world that engineers and manufactures arc-resistant switchgear. Our original engineering team pioneered the widespread use of arc-resistant gear throughout Canada. We continue to innovate by offering solutions such as 2C rated, with two high breaker configurations—drastically reducing equipment footprints—and myriad other options that make Crown gear second-to-none in safety, security, and convenience. Our arc-resistant switchgear is designed and tested to meet ANSI / IEEE C37.20.7 standards and represents years of research, design, and manufacturing refinements by Crown's expert team of engineers and fabricators. Crown saves time and money with every high-performance lineup of switchgear we deliver but most importantly, we save lives.