Meet our diverse, innovative and highly-skilled workforce
Management
At the crux of Crown Technical Systems, success is its diverse and highly skilled workforce. All manufacturing areas are divided into five distinct groups; engineering, fabrication, assembly, wire preparation/wiring, and quality assurance. Each group is lead by a talented employee that is intimately familiar with his/her area of expertise on a per-project basis.
President
Norm Siddiqui
Over twenty-five years of experience in the Electrical Utilities Industry. Holds a Master of Science degree in Mechanical Engineering from the University of Oklahoma.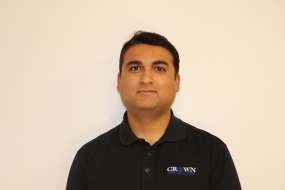 Vice President and Director of Manufacturing
Howard Siddiqui
Khawar (Howard) Siddiqui is Vice President of Crown Technical Systems. In his role, Howard is responsible for Manufacturing Operations and Corporate Shared Services, which includes Finance, Human Resources, Facilities, Safety & IT. He is based out of Crown Technical Systems main headquarters in Southern CA, and also has oversight of the Crown Texas facility (Dallas metro) as well as Crown Canada facility (Vaughn, ON Canada)
Howard's expansive manufacturing career began in 1999, while working towards a Bachelor of Science degree in Information Technology from California State University Fullerton. Howard's first assignment at Crown was to work in the shop, as a young college student learning how to do the simple and sometimes most important tasks in a manufacturing environment. As his experience progressed, he went on to learn in detail how to make wire markers, and then on to actually build some of the high-tech products that Crown still produces today, including relay & control panels as well as medium voltage Switchgear. During his career, Howard has held entry level positions and made his way through the organization up to executive management. This uniquely diverse background has given Howard the ability to lead high performing teams while still maintaining a strong foundation built on the basics of good business.
General Manager
Josh Carruthers
Josh Carruthers has over ten years experience in Executive Management and over seventeen years experience in Manufacturing of Products for Utility and Power Industries. He holds a degree in Mechanical Engineering from Cal Poly Pomona.
Mechanical Engineering Manager
Kenny Van Holland
Over Fifteen years of Mechanical Engineering and Manufacturing experience. Holds a Bachelor of Science Degree in Mechanical Engineering from California State University at Pomona.
"I've always been interested in joining an energetic, and growing company that cares about its customers and makes quality products.
My previous employment was working for a small growing companies where I played an integral role in creating growth and sustainability. It was this that led me to join Crown Technical Systems Business Development Team. I'm proud to work for a company that looks after its people while striving to make a difference in how its customers are treated.
Our business development team continuously looks for ways to achieve customer satisfaction by striving to meet their specific needs on a per project basis."
Mark Martinez
A Day At Crown Technical Systems
Watch an overview of our top-class facilities